Michael Sadlier
MVB CertESM, CertES(Orth) MACVSc(EqSurg) MRCVS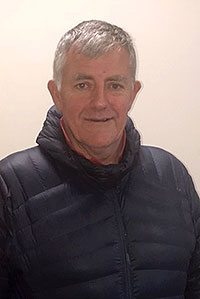 Michael graduated from University College Dublin in 1983. He spent the first two years of his veterinary career in mixed practices in Counties Limerick, Cork, Westmeath and Louth.
After a couple of years he left to work in equine practices in Sydney, Japan, New Zealand, France, the US, and the UK. Whilst in the UK he bought a small animal practice in London, a diversion he thoroughly enjoyed, however, he returned to Ireland in 2003 to take up a partnership at Troytown Equine Hospital on the Curragh. In 2013 Troytown Equine Hospital merged with GreyAbbey Veterinary Hospital to form Troytown GreyAbbey Equine Veterinary Services. Along his career, he acquired a Certificate in Equine Stud Medicine, a Certificate in Equine Surgery (Orthopaedics) and Membership of the Australasian College of Veterinary Scientists in Equine Surgery.
Michael has held voluntary executive positions in several professional veterinary bodies including; Chair of the Equine Group of Veterinary Ireland, Council Member of the British Equine Veterinary Association and currently an elected member of the Veterinary Council of Ireland.