Warren Schofield
MA VetMB CertES DipECVS MRCVS
European Specialist Surgeon and RCVS Certificate in Equine Soft Tissue Animal Surgery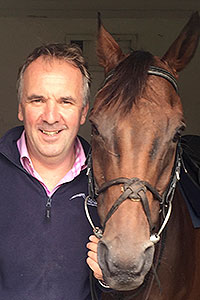 Following his graduation from Cambridge University in 1992 Warren spent a few years in general practice in Lincolnshire.
He later joined University College Dublin (UCD) Department of Large Animal Surgery in 1994 as a resident, progressing to a lecturer a few years later. Whilst at UCD he obtained a RCVS Certificate in Equine Soft Tissue Animal Surgery and became a European Diplomate in Large Animal Surgery.
In 2000 he joined Troytown Equine Hospital as a partner specialising in equine surgery and orthopaedics. Warren led the first team to perform and report on standing cannon bone fracture repair in racehorses, which was published in 2006. A technique with significant welfare benefits for the horse, it has subsequently been performed and further developed in equine hospitals all over the world. His current particular interests are; surgery of foals, colic and abdomen surgery, mare reproductive tract surgery, orthopaedics, particularly bone scanning and MRI scanning. As a hospital based specialist he leads the team at Troytown GreyAbbey dealing with all manner of surgical and medical concerns including investigations into poor performance problems.
Troytown GreyAbbey Equine Veterinary Services
Grey Abbey Road
Kildare
County Kildare
Ireland