The CVS Equine division includes seven hospitals with more than 50 sites offering equine work.
These include some of the country's leading multi-disciplinary referrals hospitals, specialist equine-only practices and mixed practices with an equine caseload led by Hattie Lawrence, Equine Director UK, and Tim Mair, Equine Veterinary Director, assisted by Sophie Ignarski and Charlotte Sinclair.
Equine Director UK
Hattie Lawrence
MRCVS
Hattie qualified from Bristol in 1997 and spent all of her time in clinical practice in the Lambourn Valley, working with racehorses and sports horses.
After 20 years of equine practice she was keen for some new challenges, and when Valley Equine Hospital became a part of CVS Equine in 2016, she was given the opportunity to develop a more strategic and operational leadership role.
She was appointed as Equine Director UK in 2019 and now has responsibility for all the CVS Equine practices in the UK.
Equine Veterinary Director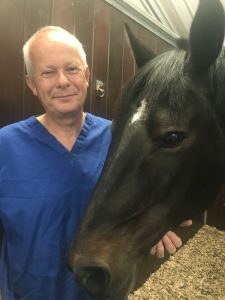 Tim Mair 
BVSc PhD DEIM DESTS DipECEIM AssocECVDI MRCVS RCVS
Specialist in Equine Internal Medicine & Equine Surgery (Soft Tissue)
Tim graduated from the University of Bristol in 1980. He obtained a PhD in 1986 and then stayed at Bristol as a Wellcome Trust Lecturer in Equine Medicine.
He has obtained diplomas and is a recognised specialist of the Royal College of Veterinary Surgeons (RCVS) in both Equine Internal Medicine and Equine Soft Tissue Surgery, and is a founding diplomate of the European College of Equine Internal Medicine. He became an Associate of the European College of Veterinary Diagnostic Imaging in 2011.
Tim has been editor of Equine Veterinary Education since 1996. He has an interest in clinical research (currently concentrating on MRI, colic, neoplasia and clinical audit), and has published widely in the professional veterinary literature (with over 150 peer-reviewed veterinary articles).
He has acted as external examiner for veterinary undergraduates at the Royal Veterinary College (RVC) and University of Bristol, and in 2007 became a Visiting Professor at the RVC. A council member of the British Equine Veterinary Association and serves on several RCVS committees/sub-committees.
Tim leads the hospital services at Bell Equine and has special interests in equine medicine, colic, soft tissue surgery and MRI.
Equine Commercial Director 
Sophie Ignarski
BSc (Hons) BVetMed MRCVS
Sophie Ignarski qualified from the Royal Veterinary College, London in 2010. Following an internship at the Sharjah Equine Hospital in the UAE, Sophie went on to the complete the Darley Flying Start scholarship programme and spent several further years working for Darley in Newmarket in a mixed clinical and bloodstock role.
In 2015 Sophie joined the equine team at Boehringer Ingelheim, working within the company's technical and sales functions and supporting the national key accounts business unit.
She joined CVS Group in July 2021 in the role of Equine Commercial Director and works with Hattie to support the Equine practices to provide excellent clinical and client care.
Equine Development Lead 
Charlotte Sinclair
BVSc PhD Cert EP Cert ES (Orth) FHEA MRCVS
Charlotte graduated from the University of Bristol in 2000 and undertook an internship in private practice. She then became a Senior Clinical Training Scholar in Equine Practice and Musculoskeletal Sciences at the Royal Veterinary College. During this time, she attained RCVS Certificates in Equine Practice and Equine Surgery (Orth) and published research in the area of tendon injury.
In 2010 she was awarded a PhD in equine tendon biology. Whilst employed at the RVC Equine Referral Hospital as Staff Clinician in Diagnostic Imaging she taught undergraduate and postgraduate students and was awarded Fellowship of the Higher Education Academy.
In 2013 Charlotte joined the B&W Equine Group in Gloucestershire where she continues to combine her clinical work with her CVS Equine Development Lead role. Charlotte supports our clinical teams in the common goal of Quality Improvement and Clinical Excellence.